Blog:

New PM to propose energy support but will businesses benefit?
Liz Truss has become the new UK Prime Minister having gone up against former Chancellor of the Exchequer Rishi Sunak.
Now, Truss has the opportunity to review tax, borrowing, and household support pledges made by her predecessor.
So, what can we expect?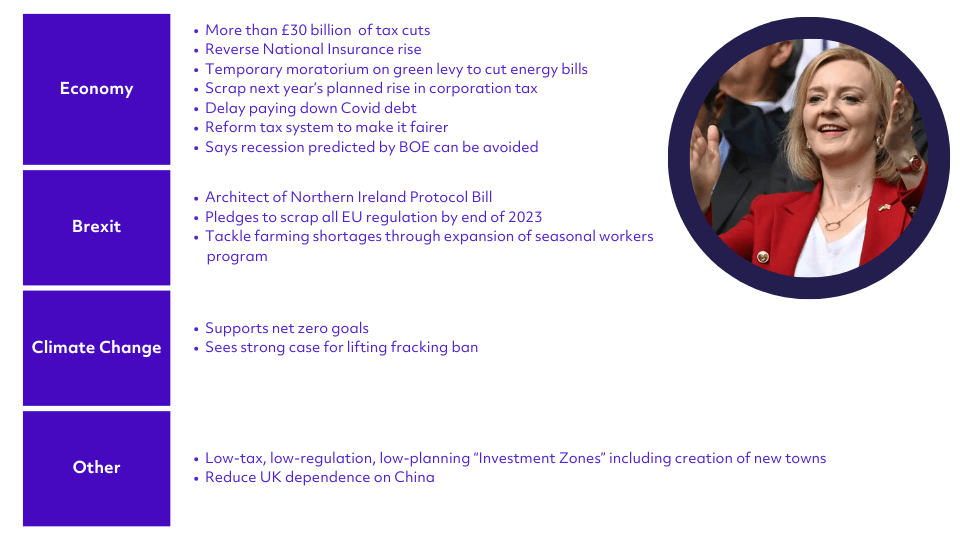 Energy support
One of the more significant issues Truss has to tackle is the impending increase in energy prices.
From October another price cap increase could see energy bills skyrocket, and while households will obviously be hit, the impact on businesses could be catastrophic.
It's thought Truss will announce plans to freeze energy bills later this week by putting a government-backed loan scheme in place for energy suppliers to use against increased wholesale bills.
It's unclear if this proposed fund will help business bills – it'd push the cost of borrowing needed past the £100bn already expected. Instead energy firms may be mandated to offer unit price reductions instead.
Business bills aren't protected by the price cap; however, all tariffs would increase in October so for those coming out of fixed-rate deals bills could rise by four or five times.
Craig Beaumont from the Federation of Small Businesses said: "This commitment looks very promising, and arguably the best reassurance that small businesses need that some form of help with bills will follow – not just for households."
Taxation
During her leadership campaign, Truss spoke out against several tax measures introduced or proposed by Sunak in his last Budget announcement, expressing a desire to reverse the National Insurance Health and Social Care Levy, scrap next year's planned rise in Corporation Tax, and to reduce VAT.
While Truss sees cutting taxes as a way to reboot the economy, critics have argued that this would lead to increased borrowing on top of existing Covid-related debits – which she also plans to delay paying – and in reality, will help higher earners significantly more than those at lower income bands.
Those earning less than £12,570 don't pay National Insurance, and so an NI Health and Social Care Levy reversal would do nothing to support those in that category, for example.
In a BBC interview conducted after leadership voting had closed, Truss essentially disagreed with Johnson's leveling up agenda, suggesting that a 'trickle down' approach of tax breaks and benefits for the wealthy would stimulate economic growth faster than focusing on equal wealth distribution.
Green energy
Although Truss has a legal obligation to back net zero by 2050 ambitions, she has also frequently criticised solar farm development in rural areas and supports further fracking.
She has also suggested that green energy levies that represent around 8% on a dual fuel bill will be scraped, which would be an interesting move at a time when the UK's reliance on imported gas is biting back.
Industry body Energy UK said reducing support for "the very solutions that will prevent a repeat of current crisis" would not be "the wisest move".
Liz Truss comes into power at an incredibly difficult time for consumers and for businesses. Decisions she makes now could be the difference between economic recession and slow recovery; businesses closing and surviving; and even more severe consequences for the most vulnerable portions of society.
Watch this space.