Innovating to stay ahead of the game in the food and drink industry
In recent years, changes in consumer habits have forced the food and drink industry to make significant adaptations to their business models, with both local and international trends shaping the sector in new ways.
From the dramatic rise in lifestyle changes, such as veganism, to the planet's growing environmental conscience, a variety of factors are influencing consumer behaviour and businesses must adapt or risk alienating an increasingly-demanding market.
Below we run through some of the major challenges facing the food and drink industry and how UK companies are innovating to stay ahead.
Taking veganism to the masses
The UK is a world-leader in vegan products, launching more new vegan food products in 2018 than any country in the world[1]. Considering that the number of vegans in the UK quadrupled between 2014 and 2018[2] – there were 600,000 in 2018 – it's no surprise that businesses are eager to create products that make the lifestyle choice accessible to all.
However, companies looking to enter the vegan market must address a number of common consumer concerns in order to truly establish themselves.
Firstly, there is the challenge of trying to replicate the taste, appearance and texture of meat. Not everyone considers such resemblances important, but some will have been put off from switching to the lifestyle by the fact that traditional vegan alternatives are noticeably different from meat.
Neat Burger[3], a vegan fast-food chain which has recently launched its first restaurant in London, is one of the industry leaders in plant-based meat substitutes and has plans to expand into Europe and America. Powered by the team behind Beyond Meat, an American meat-free company which was valued at $3 billion (£2.4 billion) this year[4], Neat Burger has developed a series of vegan burgers and hot dogs made using meat-free alternatives.
The company prides itself on its ability to replicate meat qualities in its products and, through the use of beetroot juice, the burgers even 'bleed' to give them a 'medium-rare' look. It's hoped that this innovation, which has now been widely deployed across the industry, will make the vegan lifestyle more appealing to meat-eaters.
Beyond Meat burgers are now stocked at Tesco stores. Martyn Doble, prepared foods manager at Tesco, said: "We believe that this fantastic tasting patty will be a real game changer for anyone considering going vegan or trying a flexitarian diet. The most common reaction from those that have tried it is that they cannot believe it is made from plants."
Neat Burger has recently attracted investment from Formula One star Lewis Hamilton, who hopes that the similarities will encourage more people to adopt a vegan diet, or even just cut down on their meat intake. If they succeed in closely replicating traditional burgers, consumers who choose to adopt a plant-based diet may hardly notice the difference.
Recreating nutritional value
The challenge for vegan companies doesn't end there, with consumers also demanding likenesses that go beyond aesthetics and taste. A common criticism of the vegan diet is that people don't get the same level of protein as meat-eaters, so innovative businesses are now developing methods of bridging this gap.
Plantsy[5], for example, has developed the UK's first-ever algae protein drink. This vegan product contains all of the essential amino acids that people need for building and maintaining muscle mass, which are traditionally sourced from meat. The drink is designed to "make being healthy simple and more convenient" providing 15 grams of protein, plenty of vitamins, antioxidants, and crucial omega-3 fatty acids. The fact that algae can grow quickly in all kinds of environments without needing fresh water also makes it incredibly sustainable, certainly more so than traditional meat farms.
Companies such as Plantsy are ensuring that if people do switch to veganism they do not miss out on any crucial vitamins or nutrients. By minimising the nutritional differences between carnivorous and meat-free diets, these businesses are capitalising on the growing interest in veganism and making it as easy as possible for people to adopt this lifestyle.
The food and drink industry have a substantial impact on the environment and recently there has been a big focus on cutting this down. Each year, approximately 10 million tonnes of food and drink is wasted in the UK, while the industry is also responsible for emissions equivalent to at least 32 million tonnes of carbon. Research has focused on sustainable packaging, with the industry desperate to reduce the damaging amount of waste it currently produces, both for ethical reasons and the fact that customers are starting to care more about the environmental practices of brands.
It's been predicted that by 2050, there could be more plastic in the ocean than fish[6] and, with more than half of the UK's plastic waste coming from packaging[7], it's an issue that quickly needs addressing.
One company tackling the problem head on is Cuan Tec[8]. The Scottish start-up takes waste langoustine shells from fisheries to obtain the natural biopolymer Chitin and then uses biology to make it sustainable for over 3,000 industrial purposes. This includes the production of compostable, antimicrobial food packaging, which helps to extend the shelf-life of food. The innovative packaging reduces food waste, plastic pollution and the amount of rubbish in landfill, so benefits the environment in numerous ways.
Waitrose has already signalled its intent to use Cuan Tec's products in its stores. The retail giant is hoping to replace all of the plastic film in its products with Cuan Tec's sustainable flexible alternative.
Dr Cait Murray-Green, CEO at Cuan Tec, said: "As well as protecting food on sale to consumers, this technology gives value to what would have been a waste product and takes single-use plastic out of the food system, meaning that less waste goes to landfill."
Food waste is a real concern, not just for the UK, but for the planet. In the UK, around 10 million tonnes of food is wasted each year and the government predicts that about 60% of this is avoidable[9]. This has significant environmental and financial consequences. The food waste has a value of over £20 billion a year and produces more than 25 million tonnes of greenhouse gas emissions[10].
The use of innovative packaging, such as that produced by Cuan Tec, helps the issue by making food last longer before going off, but this doesn't solve everything. There is also the problem of 'imperfect' produce being dismissed for aesthetic reasons. It has been reported that 4.5 million tonnes of 'ugly' fruit and vegetables are thrown away in the UK each year[11], purely because it isn't the right shape or size.
One recent trend which aims to reduce this statistic is the concept of 'wonky' produce, whereby companies, such as the British brand ChicP[12], make use of fruit and vegetables which would otherwise be dismissed by farms and shops. ChicP work with UK farmers to collect the imperfect goods and use them to make four varieties of hummus. The dips are healthy, tasty and incredibly sustainable. The company was even named the winner of the Best Convenience Food Innovation Award in 2016 for its role in tackling food waste.
While ChicP alone cannot eradicate the problem, it is certainly doing its bit and paving the way for more companies to follow its lead in the years to come. Around 80% of Brits say they would be happy to buy wonky fruit and vegetables[13], so the interest is certainly there.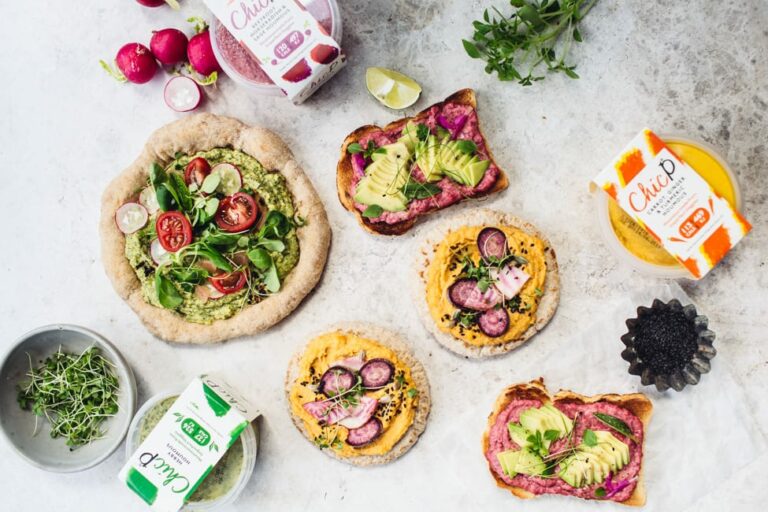 Future Innovation
While progress has certainly been made to overcome the challenges facing the food and drink industry, there is still work to be done. Innovations such as sustainable packaging and plant-based meat substitutes are helping to address the concerns, but they need to be adopted on a much greater scale to truly have an impact.
The industry is starting to look at the bigger picture and create a circular economy, aiming to reduce both waste and its use of resources. New technologies and innovations are needed to speed up this process, which will involve improvements to all aspects of the supply chain, from farming, to transport, to consumer waste.
But progress is slow. The government has set a target of increasing R&D investment to 2.4% of GDP by 2027, but based on current growth rates, we predict it will take four decades to reach this goal.
Such innovations qualify companies for the government's R&D Tax Credit scheme, which allows eligible businesses to claim up to 33% of their investment in R&D back. The initiative is designed to encourage UK businesses to invest in innovation, so they can adapt to the ever-shifting consumer landscape.
Innovative companies are playing their part to preserve our future, so let's find out how we can help support your journey and business. Speak to our team to find out how we can support your next idea.
Get in touch