Blog:

How we got: air conditioning
A predictable blog today, but it'll be an interesting read anyway. We're looking at the history of what we know today as 'air conditioning'.
What is air conditioning?
It's the process of controlling the temperature, humidity, and purity of air within an enclosed area. It's used everywhere from personal spaces like homes, hotels, and shops, to industrial facilities like technology storage and factories.
How does air conditioning work?
According to Carrier.com, air conditioners have three main mechanical components: a compressor, a condenser coil, and an evaporator coil.
A compressor raises the pressure and temperature of the refrigerant
It enters the condenser coil where it's converted to a liquid
That liquid enters the evaporator coil, where it evaporates and cools the coil
A fan blows air across the cold evaporator coil, circulating it throughout your home
The heat from your home warms the evaporated gas, which is sent outside
As the heat is released outside, the refrigerant returns to a liquid state, and the compressor starts the cycle again
How long have we had air conditioning?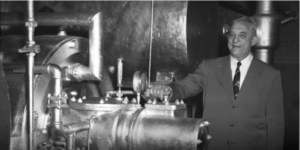 American inventor Willis H. Carrier installed what is considered the first modern electrical air conditioning in a printing plant in 1901.
His invention controlled the temperature and humidity of the space which helped maintain consistent paper dimensions and ink alignment. He later formed The Carrier Air Conditioning Company of America which still employs over 50,000 people today.
It was actually another inventor, Stuart W. Cramer, who used the term 'air conditioning' in a patent claim filed in 1906.
The first domestic air conditioning was installed in the home of Charles Gilbert Gates, son of a barbed wire manufacturer in Minneapolis. Unfortunately, Gates died before the home was completed and so he never got to use the state-of-the-art system.
The first portable unit was developed in 1945 and is the in-window unit that you see across the US in particular today.
Global impact of air conditioning
The ability to have such control over our environment has no doubt changed the way we are able to operate industrially as well as providing living comfort in ever-changing conditions. But there are widely reported downsides to the use of AC.
It accounts for high energy consumption levels, and the refrigerants used have been linked to ozone depletion and climate change.
Like many innovations, though, techniques continue to evolve and many newer buildings use things like passive ventilation and cooling which harness natural air pressure to move and change air instead.
What's the future of air conditioning?
Like most technology, the next focus for air conditioning engineers is to make them more eco-friendly.
Exergyn is one such leader in this space.
Supported by equity investment and grants from Enterprise Ireland, SEAI, EU Horizon 2020, Carbon Trust UK, and the Irish Government's Disruptive Technologies Innovation Fund, the clean-tech company has been working on a solid material solution that can replace harmful refrigerants.
Clean-tech expert Chas Anders Hall estimates the technology could be worth over $500 million, and it's seen as key to decarbonising the sector, which as a whole could be worth up to $1 trillion.
Do you have a green AC innovation?
Exergyn has used a variety of funding options to support their innovation efforts and you can too.
Green technology solutions are high on the priority lists for grant funding through Innovate UK; R&D in this space could be rewarded with R&D Tax Credits; and sales from patented inventions qualify for Patent Box.
Whatever stage you're in, share your clean tech ideas with us and we'll help you understand what kind of funding might be right for you.
Share your ideas