News Item:

CES went ahead in Las Vegas last week. Here are some of the things on show
Nibbling cats and Covid masks: First look at CES tech show
A finger-nibbling plush cat and a cooling fan for the ever-present anti-Covid mask: the CES tech show in Las Vegas on Monday offered a glimpse of the offerings at this year's meet-up.
CES, one of the world's largest trade fairs, is pushing ahead with an in-person edition after being online-only last year due to the Covid-19 pandemic.
Here are timely — and quirky — products that will be pitched at the Wednesday to Friday convention:
– Cooling masks –
Entrepreneur Eric Fouchard got tired of feeling hot and stuffy under his anti-Covid mask, so he came up with a tiny ventilation system that can be mounted under a face covering.
The fan is held in place with a magnet assembly and is powered by a small rechargeable battery held in a strap that passes over the back of a user's neck.
"The first way to use it is when you are on a plane or a train," he told AFP. "The second one is when you are working and you need to remove the mist on your glasses."
"The filtration of the mask stays the same," Fouchard, a Frenchman, said of his Aeronest system.
– 'Sweet biting' –
The Japanese phrase "amagami" translates roughly to "sweet biting" in English.
"We find it very comfortable and we want to bring it to the world," Japanese entrepreneur Shunsuke Aoki said.
He transformed that impulse into a small, battery-powered plush creature that nibbles gently on your finger.
Aoki said young dogs or cats will harmlessly do the same thing, which is a source of comfort for people — noting that he likes to let the device nibble his finger while driving.
"In a Covid situation, with people staying home every day, it gives you very good comfort," he added.
– Who's driving? –
Who will be behind the wheel of the race cars scheduled to hit the track at CES? No one.
"It's completely self-driven. There's software that tells the car what to do," said Paul Mitchell, president and CEO of Energy Systems Network, the organizers of the Indy Autonomous Challenge racing competition.
"It takes the information from the sensors and it tells the car whether to turn, whether to brake, accelerate or overtake another vehicle," he added.
Autonomous cars will race on Friday on the Las Vegas Motor Speedway at speeds of up to 160 miles (nearly 260 kilometers) per hour.
The exercise is not just for fun: Mitchell said the competition tests autonomous tech at high speeds so that, one day, cars can operate themselves on highways.
"Race cars and racing in general is a great platform to push the technology to the absolute edge," he added.
– Mask for more than Covid –
The white plastic shell of these masks covers the nose and mouth — and looks like something out of Star Wars.
But their inventors say they can stop pollution, bacteria and even Covid.
Connected to a belt-worn device, it contains an "active" filter capable of destroying fine particles and pathogens or pollutants.
"It's a fantastic tool to fight the Covid crisis," said Franck Glaizal, co-founder of Airxom.
"Traditional masks are not 100 percent airtight, air passes through the sides. Our mask is completely airtight", said Trong Dai Nguyen, an engineer with the company.
The current model is due to be released in a few months, for about $340.
"If you change (surgical) masks every four hours, after three years it is more expensive than our mask," he added.
juj-jm/dva
---
Creepy meets cool in humanoid robots at CES tech show
A lifelike, child-size doll writhed and cried before slightly shocked onlookers snapping smartphone pictures Wednesday at the CES tech show — where the line between cool and slightly disturbing robots can be thin.
"Oh! The eyes are very scary," said Marcelo Humerez, an exhibitor from Peru who happened upon the Pedia-Roid, which is designed for medical training, as its eyes went white.
But just a few stands away, a humanoid named Ameca got a decidedly different reception, as it chatted with a curious crowd that marveled at its ability to make a range of stunningly person-like gestures.
"Whoa, robot! I didn't expect that when I turned the corner," said Ricky Rivera, an exhibitor with Canada-based tech company Geotab. "But it looks amazing and it tracked me right away."
Both reactions were, in some ways, exactly what the makers had been aiming for.
Morgan Roe from Britain-based Engineered Arts said the firm created software and technology to make Ameca person-like — though there are limits to how realistic it can be.
"We've designed Ameca to be as human-like as possible in movement," he told AFP while standing next to the robot, whose gray face moved and blinked as he spoke.
"Humans are so complex, so making a robot exactly like a human is almost impossible," he added. "But if we did that, then you wouldn't be scared of it because you would just assume it was a human."
– 'A little bit creepy' –
Just before perfection, though, is a creation that is off in ways that reveal it isn't a living being — it's a concept called "the uncanny valley."
"It doesn't quite move like a human, it doesn't quite express itself or emote or talk like a human. That's the uncanny valley, that's the scary bit," said Roe.
Yet the slightly frightening aspect of the Pedia-Roid robot was done on purpose, said Yusuke Ishii from Japanese firm tmsuk, which was displaying the doll.
"We want to create a realistic scenario, so that's the reason we added some of the scary noises, so it will behave like a child," he said through a translator.
The firm's brochure notes the robot can "realistically simulate the jittery movements of a child who is reluctant to receive treatment."
At times, the roughly 43-inch (110-centimeter) tall robot moaned and talked, and its legs jerked — though it can also simulate convulsions or the vomiting reflex.
Ana Kloar, an exhibitor from Slovenia, watched the Pedia-Roid for a bit and found it pretty cool.
"A lot of children are afraid of dentists or doctors in general, and in this way you can practice how to treat them, how to comfort them," she said.
And what about those eyes — rolling back into the doll's head or turning white?
"They are a little bit creepy, but the doll, it's quite cool," she said.
jm/to
---
CES show highlights: Robo-dogs, self-sailing boat, brain tech
The CES tech show in Las Vegas closed its 2022 edition on Friday, after pushing ahead with a significantly downsized gathering despite surging Covid cases.
Industry behemoths like Amazon and Google stayed away over the virus risk, but the more than 2,200 firms big and small in attendance still pitched their hopes for the next big thing.
Here are some parting highlights from the show:
– Mind control? –
French startup Wisear is working on technology that detects the signals that zip between the brain and certain muscles, in order to use them to operate connected devices.
"Over the past 30 years we have significantly improved the digital power around us but we still use the same tools — keyboards, mouses, touchscreens" to interact with machines, said Wisear co-founder Yacine Achiakh.
"Voice control is coming, but it's slow, and it doesn't always work. So we want to create an interface that is inclusive and easy to use," he added.
At this stage, his team has paired the system with earphones that can recognize the movements of their user's jaw.
The user can pause the music playing on their cell phone and then restart it by moving their jaw in chewing-like motions.
The idea came to them by observing the progress of Neuralink, a firm that belongs to Tesla chief Elon Musk, and which is conceiving implants to be able to communicate with machines by thought.
"We figured it would be a shame to wait 50 years to have brain implants before allowing people to be able to have a much better way to interact with the digital world that surrounds us," Achiakh noted.
His company intends to perfect its technology (and expand the range of actions) to sell to the tech industry's giants.
They will be able to integrate it into headphones but also augmented reality glasses, allowing users to control the display without taking out their smartphone.
– Dancing (robot) dogs are here again –
The Boston Dynamics robot dogs — the ones compared to the killer four-legged bot in a dystopian "Black Mirror" episode — are back and this time they are going to the metaverse.
Hyundai snapped up the robot maker last year, raising questions about the South Korean automaker might be planning.
To the bright pop of South Korean boy band BTS, the yellow-bodied four-legged tech did a choreographed routine at Hyundai's booth for a crowd recording every step on their phones.
But the performance also included an animation of a vision for using the robots as the eyes and ears on Mars for people who could then experience the Red Planet in the metaverse.
"The idea behind metamobility is that space, time and distance will all become irrelevant," Chang Song, president of Hyundai Motor Group, said in a statement.
"By connecting robots to the metaverse, we will be able to move freely between both the real world and virtual reality."
– Snow-e-bike –
A ski on the front, a track on the back, handlebars, a padded seat and, most importantly, a battery: the MoonBikes are the first electric snowbike, according to the start-up that makes them.
"It's electric and quiet, so it doesn't bother customers and it protects the environment," said Nicolas Muron, founder of the French company.
His idea was to make this type of vehicle more attractive and accessible.
"88 percent of snowmobile users are men, with an average age of 46. So they are not for everyone. I wanted to make a machine that was easy to use," Muron said, adding the machines feel a bit like skiing.
They are priced at around $8,500 for pre-order in the United States.
– The self-sailing boat –
Spoiler alert: It's a boat that sails itself.
Hyundai presented what it called the first "self-driving" boat, equipped with cameras, depth sensors and artificial intelligence systems.
"By applying autonomous navigating technology to leisure boats, users can greatly reduce the time required for berthing and docking as well as the risk of accidents during operation," said Do-Hyeong Lim, the boss of the Hyundai Heavy Industries subsidiary Avikus that designed the navigation technology.
The boat in 2021 made a 10-kilometer (six-mile) trip with 12 passengers on board in South Korea, and Hyundai has announced preparations for a large merchant ship to sail with this same technology.
juj-jm/mtp
---
Metaverse gets touch of reality at CES
A jacket equipped with sensors that let wearers feel hugs or even punches in virtual reality was among the innovations giving the metaverse a more realistic edge at the Consumer Electronics Show.
"What is the metaverse if you can't feel it?" asked Jose Fuertes, founder of the Spain-based startup Owo, which made the jacket. "It's just avatars."
The "metaverse" — a parallel universe where human, augmented and virtual realities are supposed to merge — was a hot theme at the annual gadget extravaganza in Las Vegas, with startups showing off computers, headsets and other gear promising to enhance time spent in virtual worlds.
Owo touts its jacket as able to immerse wearers, whether in video games or in the metaverse, letting them feel "a gunshot, the wind, someone grabbing your arm and even a hug from a loved one."
The tight-fitting jacket features bands that stick to the skin, with sensors that sync to a mobile application. Before donning a virtual reality (VR) headset, the wearer can choose the intensity of each sensation.
"Our mission is to turn the virtual into reality with a second skin; to add the sense of touch in the metaverse or video games," Fuertes said as AFP tried out the jacket.
The Owo garb — to be priced less than $450 when it hits the market late this year — brings to mind the sci-fi novel-turned-film "Ready Player One," in which people in a dystopian world live alternate lives in a virtual universe.
The science fiction future seems distant given a lack of full body suits and comfortable headsets for simulated experiences, or ubiquitous high-speed internet service to handle such rich data streams.
Nonetheless, the metaverse has become a popular topic since being endorsed by Facebook chief Mark Zuckerberg so enthusiastically that the technology company was renamed "Meta."
– Sound of inevitability? –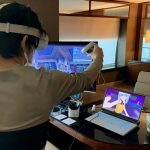 Virtual reality has mostly been used for video games, despite its potential for experiences such as letting people visit museums, landmarks or far-off cities while sitting at home, and even for providing seats literally in the middle of feature films.
While companies such as Meta and HTC have invested heavily in virtual reality headsets, the equipment is still not light and comfortable enough to wear for long periods of time.
"I'm the biggest sort of augmented and virtual reality nerd, but I don't think we are anywhere close to anything exciting happening in the metaverse," said Paddy Cosgrave, head of Web Summit in Europe.
He expects it to take more than a decade for the metaverse to become real.
"Nothing can stop it," Touchcast chief and founder Edo Segal said of the metaverse.
Touchcast showed off a platform for collaboration between companies in virtual reality, complete with ".metaverse" addresses akin to .com web addresses. But the domains will be registered on a blockchain database, instead of on servers.
"In 1999, it was hard to believe people would buy things online," Segal said.
"Look where we are today. Humanity is moving in this direction."
Industry trackers report that sales of virtual reality gear were boosted by the pandemic as people relied on the internet for games, work, learning and socializing.
– 'Like a cyborg' –
Since the pandemic began restricting people's movements, Takuma Iwasa has taken to spending weekends on a VR platform where people chat and party in a virtual world with avatars as their proxies.
As the year 2020 neared its end, the young Japanese entrepreneur focused on ways someone's leg or torso movements can be mirrored by avatars and other ways of making visits to virtual worlds more realistic.
His startup Shiftall, a subsidiary of Panasonic, unveiled lightweight, high-resolution VR glasses at CES.
"In the future, some of the special suits like in 'Ready Player One' will contain every system," Takuma said.
"Currently, metaverse users need to use different products, like a cyborg."
Israeli start-up Wearable Devices is working on a bracelet that detects the electrical signals sent by the brain to the hand. The wearer can control synced objects with a mere snap of their fingers — a function that could prove useful if people use augmented reality glasses and need to select items displayed on the lenses.
But as the metaverse evolves, society will also need to be wary of dangers from online ills such as misinformation, harassment and losing touch with the real world, some experts warned.
"Counterfeit goods are going to exist in the metaverse, as well. Counterfeit identities are going to exist in the metaverse, as well," said Dan Guenther, an extended reality specialist at Accenture.
"And we've seen in many other evolutions of the internet that many times… (there) are the portions of the internet that we're uncomfortable with."
juj-gc/to/bfm
---
Ammonia and paper: Sustainability ideas at CES tech show
The CES tech show has its share of gadgets that may be cluttering a shelf soon, but among them are also objects and ideas aimed at fighting waste.
They range from big concepts like electric vehicles and clean energy, to smaller tweaks like cutting down on plastic or recycling just a bit better.
Here are some highlights from the convention:
– Paper toothbrush –
Shocking images of plastic trash have gotten a lot of attention in recent years, as humanity's love affair with disposable items has pushed ever forward.
Ukrainian company Effa makes toothbrushes and razors that, while still containing some recyclable metal or plastic, are mostly made of paper.
"We're fighting global plastic pollution by making eco-friendly disposables," said Anna Sulim, head of marketing for the company.
The brush and razor head are plastic, but they can be snapped off and recycled, while arms can be composted.
– Ammonia fuel –
Breaking humanity's reliance on planet-warming fossil fuels means finding something to take their place.
From renewables to biomass and hydrogen, many options already exist. Another is coming in the form of ammonia.
"We are developing a technology that coverts ammonia… into a renewable fuel for use particularly in the heavy duty ground, maritime and transportation sectors," said Allison Agre, a spokeswoman for US-based startup Amogy.
Basically ammonia is fed into their technology, which separates out its hydrogen molecules for use in a fuel cell that works similar to a battery.
"It's easy to transport, it's easy to store. There's already a built-in infrastructure for it," Agre added, noting the technology is currently in the prototype phase.
– Better recycling –
At-home recycling center? That's basically the idea from start-up Lasso Loop Recycling.
They are working on a machine that cleans and holds waste items for recycling, and looks like a household appliance.
"Every year, millions of tons of plastic, glass and other useful materials are sent to landfill or dumped into rivers and oceans," their webpage says.
"Co-founders Aldous Hicks and Alison Richardson thought there was a better way, and they designed the Lasso system," it adds.
jm/bfm